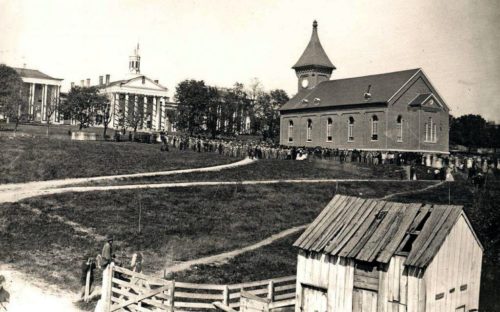 One of the great myths about General Lee was that he was well liked or popular. Let's look at his funeral for some insight in how that came to be.
Start with this simple history fact:
On June 7, 1865, Underwood's grand jury indicted Robert E. Lee for treason, charging him with "wickedly, maliciously, and traitorously" carrying on war against the Constitution and the "peace and dignity" of the United States of America. Lee faced death by hanging, if found guilty of the charges.
If Lee had been victorious in Civil War, it would have meant death to the Constitution. Thus he very correctly was charged with treason.
He was in fact the very face of tyranny, the Old South in a single man. As a deeply flawed aristocrat Lee was to blame for a staggeringly cruel death toll, and doing little or nothing when his followers committed gross atrocities. He himself very intentionally denied care to wounded American soldiers.
He betrayed his own country, a republic, with the aim of terrorizing and slaughtering Americans to create a violent tyranny where only a few white elitist men would rule.
That's not exactly the kind of popularity one wants for a funeral in 1870.
Don't get me wrong, though.
There were many traitors who loved Lee's vision of tyranny replacing American government and who fought for his cause of expanding slavery. Many favored his barbaric tactics in war, essentially terrorism. Some even tried to fabricate a "Christian Soldier" myth to rope in religious extremism as some kind of excuse for his habit towards unnecessarily high casualties (as Grant maneuvered repeatedly towards obviously decisive victories, repeatedly capturing his opponents, Lee mired his men in withering defeats and unnecessary mass deaths).
Yet, his funeral gives us ample evidence how Lee's popularity diminished so greatly he died mostly ignored just several years after the end of a Civil War he infamously led to failure. In a very real sense it was a state of being ignored and disappearing from view that prevented him from being very publicly put to death.
Had he more prominently stuck his neck out after the Civil War it seems likely Lee could have ended up hanged. Some even suggest it was General Grant who personally and very silently weighed in to save Lee from his due.
Indeed, prohibited from taking any public office or even being able to vote in elections, Lee squirreled himself away. He served obscurely as president of a small militant extremist training school, a regional "Washington College" in Lexington, Virginia (a school he fit into well, given it very notably owned human beings and benefited from their forced labor and sale).
Then Lee abruptly died from heart disease on October 12th (just five years after the end of Civil War).
Records tell us at this point very few mourned him outside his militant school and his former circles of slaveholder politicians. The numbers don't lie.
The school even had to turn its "cadets" into his pallbearers and the small funeral procession was over almost as quickly as it started.
Order of Procession as "Escort of honor, consisting of officers and soldiers of the Confederate Army. Chaplain and other Clergy. Hearse and Pall-Bearers. General Lee's Horse. The Attending Physicians. Trustees and Faculty of Washington College. Dignitaries of the State of Virginia. Visitors and Faculty of V. M. Institute. Other Representative Bodies and Distinguished Visitors. Alumni of Washington College. Citizens. Cadets V. M. Institute. Students Washington College as Guard of Honour." It continues, in part "At 10 O'Clock, Precisely, The Procession (except as hereafter designated) will be formed on the College ground, in front of the President's House and will move down Washington Street… The Procession will be halted in front of the Chapel… when the Cadets for the Institute and the Students of Washington College will be marched through the College Chapel, past the remains…
These details are captured in an auction piece.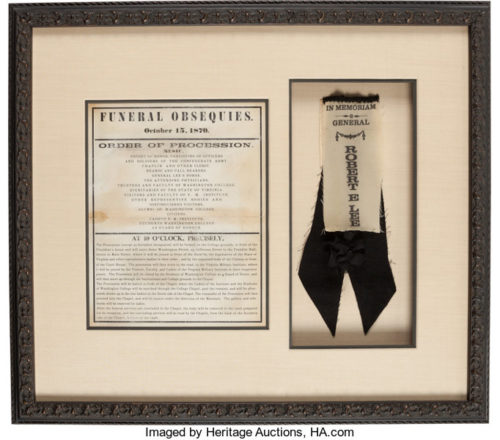 And it's confirmed also in an 1883 recount of the funeral.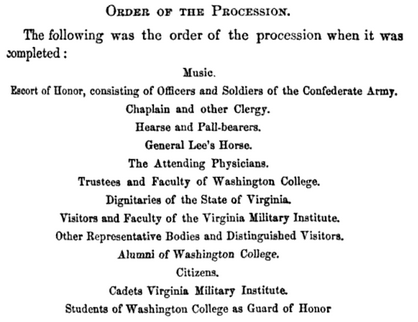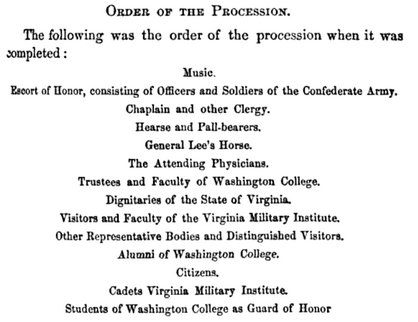 To put it another way a small regional school and some former seditious officers showed up dutifully, as well as slaveholder politicians, in total numbering barely over 1,000 people.
That's essentially nothing, given he had only recently stopped being the head of a secessionist military with lofty aims of destroying America to replace it with a slave state.
He had more than 8X that number preparing to fight a last battle when he surrendered just a few years prior. Think about that. Four years after 8,000 men swore they would fight to destroy America on Lee's command only a few showed up to pay him respect at his funeral.
Thus, the defeated General Lee died with a negative score in his battles, losing a massive war badly with excessive loss of life. He had not regained his citizenship, nor was he personally/formally pardoned officially for treason let alone leading a fight to destroy the American Constitution.
Nonetheless his body was allowed to receive a "military salute" from the tight circle of his own cadets at his school.
Tributes were mentioned in eight cities: Louisville, Kentucky; Augusta, Georgia; New Orleans, Louisiana; Atlanta, Georgia; Richmond, Virginia; Columbia, South Carolina; Baltimore, Maryland; and Lexington, Kentucky.
Eight cities.
In a nutshell, after Lee stopped his fight to expand slavery and surrendered his sword to General Grant at Appomattox Court-House, his public career ended. He quickly passed from public thoughts and very few cared to inquire about his fate, foreshadowing why his own cadets in a small college in an obscure town had to be his pallbearers.
Lee was buried under his school's church and its name was abruptly changed to "Washington and Lee". This bizarrely led to anti-American Confederate flags being flown in an American school chapel (until 2014) and even serving as the events center of anti-American militant groups (until 2016).
Eight regimental Confederate Battle flags were set to surround a recumbent statue of Lee in a renamed "Lee Chapel". In fact, this statue chamber and family crypt for Lee were built onto the Chapel using private donations. Hold that important point for a minute.
Here's how the Army and Navy Journal on August 28, 1869 quoted Lee in regard to a Gettysburg gathering to remember the dead.
In the face of the published assurances that General Lee would like to be present, a [August 5th] letter is published from him, in which he says: "My engagements will not permit me to be present. I believe, if there, I could not add anything material to the information existing on the subject. I think it wiser, moreover, not to keep open the sores of war, but to follow the examples of those nations who endeavored to obliterate the marks of civil strife, to commit to oblivion the feelings it engendered.
General Fitzhugh Lee (nephew of General Lee) is similarly quoted in the Army and Navy Journal:
I rather think, though, and I write it in all kindness, sir, that if the nation is to continue as a whole, it is better to forget and forgive rather than perpetuate in granite proofs of its civil wars.
Lee and Lee's family both asked to "obliterate the marks' and prevent "granite proofs" such as statues… yet the exact opposite happened. Since by the 1900s it became fashionable to solicit large private donations to create marks of civil strife and litter the countryside with "granite proofs" of the man and family who said please don't.
Lee's burial, as small and obscure as it was, was still a contradiction to Lee's supposed wishes to bury signs of his rebellion as it became an obvious shrine to perpetuating civil war.
It's a good reminder how in death Lee continued to be ineffective as a leader.
The Washington and Lee school in fact just refused to return their name to an original state (continuing to directly disobey Lee's request to "obliterate the marks of civil strife").
The school plainly cited "a threat to current financial support" if they removed the change, suggesting that adding Lee's name mainly has been to stoke cash donations through manipulating sentiment of white supremacists.
The commission, which studied the history of the university, noted that the sculpture and other imagery in the chapel were part of an effort in the South in the late 19th century and beyond to make the Confederacy a great cause, worthy of veneration, and to make Confederate heroes into something akin to saints. "By continuing to hold rituals and events in Lee Chapel, the university, wittingly or not, sustains the Shrine of the South and the memory of Lee as a commander of the Confederate Army," the report said. "The commission heard repeatedly in its outreach that the effect is problematic for many students, faculty, staff and alumni." Notably, the commission said, orientation of new students takes place in the chapel, as does the signing of the honor code.
General Lee's funeral, as small as it was, ended up being just one more way for people to make a lot of money from what has become known as the "Lost Cause" fraud.