The hypocrisy of Elon Musk knows no bounds.
Elon Musk went on a tweetstorm over the weekend, lobbing numerous critiques of Twitter… included suggestions on how to transform Twitter and its products. On Saturday, he asked his roughly 81 million Twitter followers to vote on whether the company should turn its San Francisco headquarters into a homeless shelter. […] As for deleting tweets, it's an action that Musk has taken in the past. Earlier this year, he deleted an offensive meme that compared Canadian Prime Minister Justin Trudeau to genocidal dictator Adolf Hitler.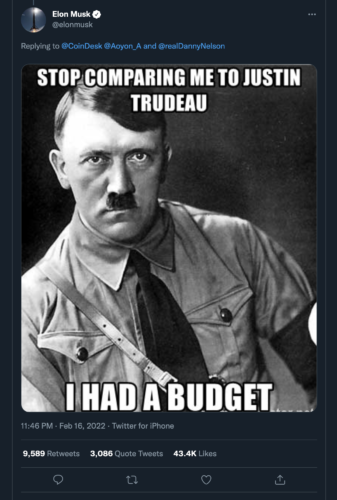 Note the double-ended attack here.
Elon Musk displayed fawning apologist praise of Hitler as someone sane or competent (he was not), while attempting to denigrate sane and competent leaders as being less desirable.
Honestly I'm surprised Elon Musk didn't portray Hitler with the more traditional apologist meme of "at least my trains to Auschwitz ran on time" (a nod to IBM).
And then he deleted the tweet.
It's not the only time Elon Musk has tried to associate Nazism with democratic leaders who obviously are completely opposed to it.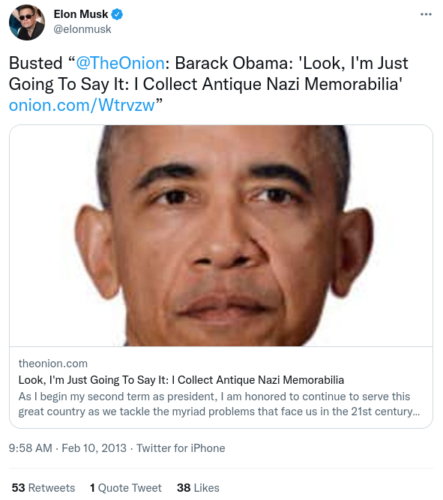 Offensive memes are a staple for Musk, who calls himself an "extremist".
Delete the w in twitter?

— Elon Musk (@elonmusk) April 10, 2022
This tweet trying to start a "Titter" campaign was deleted as well.
A similarly deleted Tweet was Elon Musk saying he wanted to start a place of learning called "TITS" just so he could capitalize women-bashing as "epic merch".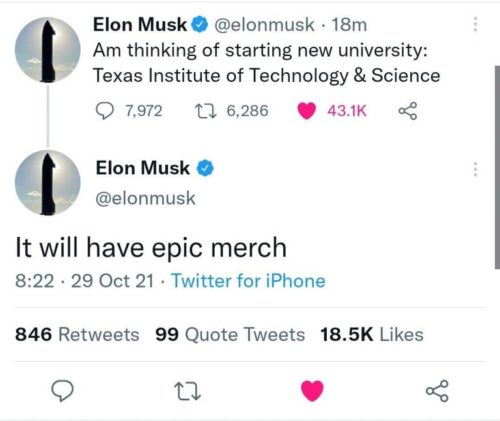 And who can forget Elon Musk offering $5000 to someone to delete their Twitter account because he didn't like the content?
Jack Sweeney, a 19-year-old from Florida, rejected a $5,000 offer from Elon Musk to delete his Twitter account…
Women have never been treated well on Twitter, which has a long history of favoring extreme-right male views as its preferred tone.
Many of the women interviewed by Amnesty International described changing their behaviour on the platform due to Twitter's failure to provide adequate remedy when they experienced violence and abuse. The changes women make to their behaviour on Twitter ranges from self-censoring content they post to avoid violence and abuse, fundamentally changing the way they use the platform, limiting their interactions on Twitter, and sometimes, leaving the platform completely.
The quote above says "many" women were censored, while the number is in fact 80%.
That is expected to only get worse now, beyond "TITS" and "Titter" jokes and going perhaps towards Elon Musk ordering accounts he disagrees with deleted as he attempted with a pathetically low pitch to Sweeny.
Already we see the market recognizing this obvious fact as CEOs leave the platform to avoid censorship by Elon Musk.
I do not want my free speech to be actively managed or controlled by a competitor.
Unfair competition in business is obviously bad, yet financial attacks are only tip of the iceberg for a man like Elon Musk who allegedly aims to profit from increasing social and racial animus to benefit extreme right political groups.