TeslaDeaths.com has 41 fatalities in their latest tally, yet NHTSA was reported by the Washington Post in January 2023 to be investigating far fewer fatalities.
17 fatalities, 736 crashes: The shocking toll of Tesla's Autopilot. Driver-assistance system has been involved in far more crashes than previously reported
I bring this up because people lately are asking me if it is ok to use the Washington Post 17 an "official" number, instead of using the clearly documented much higher number of official deaths recorded by TeslaDeaths.com.
You won't believe how easy it is to explain the difference.
Let's look first at the latest raw NHTSA fatality data, based on "Reporting Entity" of Tesla. This isn't rocket science. Take 1088 rows from the U.S. Agency data file published for public review, sort the rows on severity and… ALL these fatalities sitting at the top are ALL Tesla:
13781-5835: 2 Dead
13781-5785: 1 Dead
13781-5685: 1 Dead
13781-5673: 1 Dead
13781-5609: 1 Dead
13781-5372: 2 Dead
13781-5248: 1 Dead
13781-5165: 1 Dead
13781-4963: 1 Dead
13781-4011: 1 Dead
13781-3900: 1 Dead
13781-3847: 1 Dead
13781-3713: 1 Dead
13781-3710: 2 Dead
13781-3513: 1 Dead
13781-3488: 1 Dead
13781-3470: 1 Dead
13781-3332: 1 Dead
13781-3327: 2 Dead
13781-3279: 1 Dead
13781-3074: 1 Dead
13781-2600: 1 Dead
13781-2423: 1 Dead
13781-1979: 1 Dead
13781-1785: 1 Dead
13781-21: 1 Dead
To put things into perspective, approximately 80% (878 rows) of all crashes involving Advanced Driver Assistance Systems (ADAS) are linked to a single company, Tesla. What's even more significant is that, with the exception of one incident in 2021, every fatality associated with these crashes can be attributed to Tesla.
Another way of looking at it is Tesla crashes went from 736 to 878 (142 new) since January and their death count jumped to 30. That's 13 new deaths from 142 crashes in just a few months, meaning Tesla ADAS reports a new death for every 10 crashes.
We're talking nearly double the amount of deaths now versus what the Washington Post reported as a "shocking toll" nine months ago. Nobody should be talking about 17 anymore, because the Tesla death rate is so high.
Thirty (30) and growing
Ok, but that's still not the full 41 as recorded outside the NHTSA data. Let's now find what causes there to be 11 other fatalities on TeslaDeaths.com.
So there you have it. They all are documented ADAS deaths. May 2016 is a great example because the NHTSA investigated it very publicly, yet it's not in their SGO list. Why are these 11 missing from the NHTSA count of just 30?
Spoiler alert: American politics.
Eleven dead in those four years from Jan 2016 to May 2020 weren't recorded by the NHTSA… due to very obvious political corruption. After the 2016 Presidential election the agency head stepped down a month later and a Senate-confirmed administrator then didn't happen. There was not even a nominee to run the NHTSA after 2019.
Tesla was getting away with murder of Americans because the NHTSA seemed blinded on purpose. The safety regulator was not systematically recording ADAS fatalities, it was not even keeping up with reports in the news.
Or, to put it another way, the CEO of Tesla was immediately appointed to the U.S. President's advisory council in December 2016.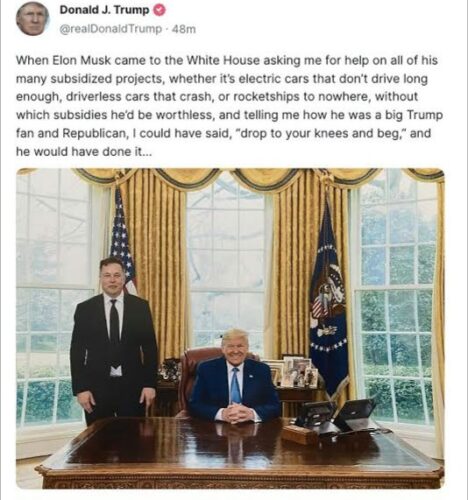 Musk's surprise rapport with Trump means 40% rally for Tesla.

Musk serves on the president's economic advisory board and regularly meets with either Trump or his top aides. He was one of a dozen chief executive officers who met with Trump at the White House on Monday to talk manufacturing, taxes and trade. "Elon Musk has an important line of communication to Donald Trump," Morgan Stanley analyst Adam Jonas wrote in a note last week as he raised his price target to $305 from $242. "This strategic relationship between Tesla leadership and the new administration is an important development."
The NHTSA in 2017 was blocked from dealing even the most egregious and suspicious Tesla deaths.
What changed November 2020 with regard to their ADAS safety monitoring? Why were fatalities recorded in a public data format?
Simple. A new U.S. President was elected, flushing out Tesla corruption.
January 2021 Steven Cliff was appointed to the NHTSA. A few months later in June of 2021 crash reporting for ADAS was inititated and the Tesla numbers grew quickly.
When the Tesla CEO no longer could corrupt regulators, the fraud of his ADAS was exposed in a new NHTSA database.
The difference from the 17 reported by the Washingtom Post is primarily that TeslaDeaths.com keeps official records from before the NHTSA was able to start functioning again, which adds another 11 fatalities. To be fair, the SGO means a specific reporting mandate and format that started in 2021. It doesn't include the earlier numbers. Also note the NHTSA is recording U.S. data, which could obviously leave out fatalities in Norway, Japan and China.